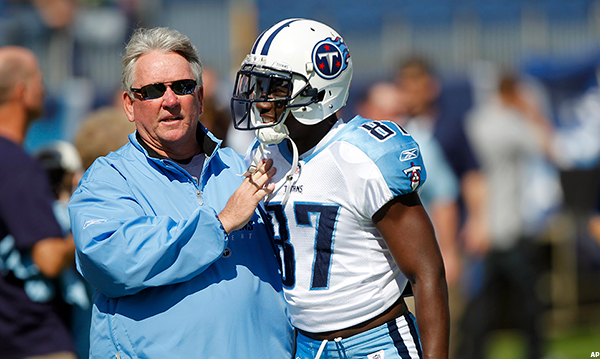 44 seasons as a football coach prepared Dave McGinnis for a job in 2017 that he never expected: Titans Radio gameday analyst.
"Coach Mac" proved to be a natural broadcaster. He knows football and has a special way of explaining it. With a keen ability to simplify the most complicated parts of football while making every part of the game entertaining, Coach Mac became the connection for thousands of Titans Radio listeners. In 2021, "The Most Interesting Man in the NFL" returns to Titans Radio for a sixth season as gameday analyst.
Why is he known as "The Most Interesting Man in the NFL"? Because he is.
Dave McGinnis has relationships with people on all 32 NFL teams, in the NFL office in New York, among local and national media, and with celebrities of every sort. He knows something about all parts of the country, can point you to the best restaurants and places to visit across the land and can recite cultural, entertainment and historical facts about anywhere that he has ever visited. He is amazing.
A conversation with Coach Mac is a treat anytime! Oh, yeah, and he seriously loves to "talk ball"!
Not only will Coach Mac join Mike Keith for the Titans game broadcasts, but he will also have a regular role on "The Mike Vrabel Radio Show" each Monday night, joins Amie Wells for the "Titans Amie and Coach Mac" podcast and hosts Titans' season ticket member events throughout the year.
But that's not all.
He will appear weekly on Titans Radio's flagship station, 104.5 the Zone (WGFX) in Nashville. Plus, he joins Titans Radio's Rhett Bryan each Tuesday night for his own show, "Mac Talk".
McGinnis began his NFL career in 1986, joining the defending Super Bowl Champion Chicago Bears as linebackers coach. He spent ten seasons on the staffs of Mike Ditka and Dave Wannstedt in the Windy City. He departed Chicago to become Vince Tobin's defensive coordinator in Arizona. He spent nearly five seasons in that role before taking over as the Cardinals' interim head coach in 2000. After being promoted to the Cardinals' top spot full-time, McGinnis remained the Arizona head coach for three seasons.
McGinnis joined Jeff Fisher in Nashville as Tennessee's linebacker coach in 2004. He would stay with the Titans for a total of eight seasons, eventually rising to the position of assistant head coach.
He would re-join Fisher with the Rams in 2012, again assuming the role of assistant head coach. McGinnis helped Fisher move the Rams from St Louis to Los Angeles in 2016.
The native of Snyder, Texas was a three-year starter as a defensive back at TCU. McGinnis began his coaching career immediately after he finished his playing career, spending 13 years as a college assistant before moving to the NFL. Between 1973-85, McGinnis served on the staffs at TCU, Missouri, Indiana State and Kansas State.