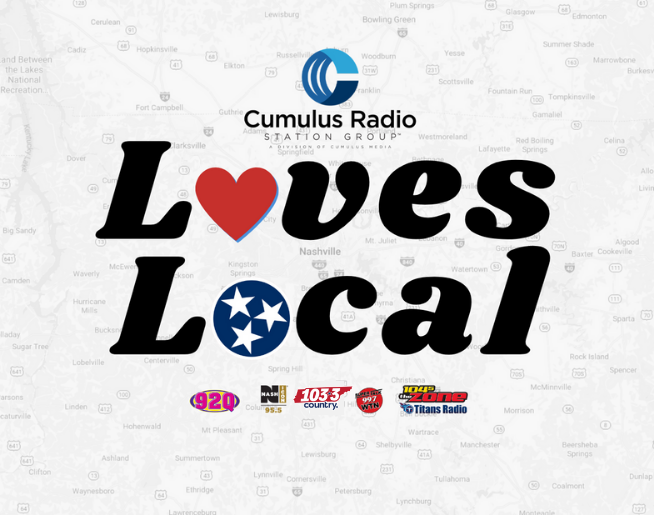 Cumulus Nashville loves our local community. In this uncertain time, we encourage your to support local Nashville businesses.
Many of the businesses below offer the ability to research or shop online. We encourage you to support local businesses.
We love all the local businesses around Tennessee! Meet some of our favorites below thanks to American Express – don't do business without them.

9-1-1- For life threatening emergencies only. For non-emergencies, call 615-862-8600

ARS Rescue Rooter recognizes that their services are of a special and often emergency nature, and they remain fully committed to fulfilling the needs of our community even as potential demand for our services may increase with more families either choosing to, or being required to, remain home for extended periods of time.

Beacon Capital Management Shred Day on April 18th has been postponed. All Seminars have been cancelled/postponed until further notice. Are you concerned about further losses in the market? Wondering what is going to happen next? Reach out to Beacon Capital Management for details on how to protect your finances amid Coronavirus.

Ready for a new vehicle but want to avoid crowds and time spent at the dealership? Ask us how we can help you shop from home and deliver. Call 615-895-5092 to speak with a sales associate today

Buy Floors Direct is Middle Tennessee's top provider of quality flooring, without the retail prices. Shop online today.

At Clayton, We are opening doors to a better life. As one of America's largest home builders, we help families achieve the dream of homeownership. Find your dream home online at ClaytonHomes.com.

 

Dr. Bob Larry DDS

Call Dr. Bob Larry at 615-329-0008 for services and availability.

 

At Hiller, home service problems don't always happen when it's convenient. We're taking special precautions to keep you and your loved ones safe as we enter your homes. For our Hiller family, this means taking a close look at the impact this virus is having on our communities and developing a plan to reduce health risks for everyone. We are always here to help. We are committed to serving your household to the best of our ability – and maintaining the lowest health risk possible while doing so. 

 

At The Kroger Co., our customers are like family. And like you, during these last few weeks we've been focused on doing all the things we need to do to keep our families safe and healthy. We believe that everyone deserves to have access to fresh, affordable food and essentials, especially in times of uncertainty. That's why we took the precautionary step on March 2 to limit the number of cold, flu and sanitary products per order…so everyone can have access to the items they need. And that's why our supply chain teams are working to ensure that the food, medicine and cleaning supplies our customers need are reaching our stores as quickly as possible and are available through our pickup, delivery and ship services. Currently, Kroger is offering free pickup.

Discover how to lose weight, feel better, look better, gain energy, and get healthy without running, jogging, or even going to a gym. LT360 is the only Christ-centered Cellular Health weight loss program in the world. Join more than 5,000 people in 29 states & 9 countries who've found transformation! 

LT360 is offering virtual seminars on their Facebook page. 

 

Mid South Exteriors will do their best to offer you the lowest price and most professional installation available in Middle Tennessee. Call or email us now!

Worried about your investments? You can now relax because we're Middle Tennessee investment managers and advisors who can help you know what to do. We don't sell products; we simply inform and manage investments. So give us a call for a no-pressure conversation, and we'll talk you through your specific situation. Visit their website for videos, blog posts and audio podcast episodes to help you relax about money.

Looking for a new car? Shop online at Riverside-Motors.com from the comfort of your home.

Everyone rides at Riverside!

 

The team at the Rollover Company is here to help ensure that you receive all the assistance you need, not only in developing your retirement income strategy, but in maintaining it throughout your retirement.

South College is a regionally accredited private co-educational, non-sectarian academic institution with non-residential campuses in Knoxville and Nashville, Tennessee; Asheville, North Carolina; and Atlanta, Georgia. Students can pursue academic programs at all levels, including professional certificates and associate, bachelor's, master's, and doctoral degrees. Take classes online at your own pace.

When your child gets sick or has an injury after normal office hours, you can rest assured that quality care is available. Vanderbilt Children's After-Hours Clinics offer urgent care for non-life-threatening illnesses or injuries in children of all ages. However, we encourage you to call your pediatrician first.

 

If you or your loved one is feeling sick or has a minor injury, Vanderbilt Health is here to help you get better fast. We offer dozens of locations with convenient hours throughout Middle Tennessee—and can even bring a provider to you.

Vanderbilt Orthopaedics is Tennessee's leading provider of orthopedic care, trusted by professional and collegiate athletes, including the Nashville Predators, Nashville Sounds, Nashville Soccer Club and the Vanderbilt Commodores. Patients from elite athletes to weekend warriors choose Vanderbilt to care for their muscles, bones and joints.

Newton Ford South plans to continue serving our communities with amazing car buying experiences for the foreseeable future. Our Newton Fastpass Technology allows you to shop, trade-in, and purchase your next car from home! We will bring any car to you for a test drive. We are innovating car buying and respecting social distancing until the health emergency are mitigated.

 

Ascend is fully committed to supporting Nashville Mayor John Cooper's "Safer at Home" order. While we are limiting in-branch visits to only essential, non-transaction related needs, our drive-up locations remain open. All Ascend locations featuring drive-up lanes remain open and available to assist with your transaction needs. We encourage you to use our drive up, mobile app, or online banking as we strive to maintain social distancing recommendations and keep both you and our employees safe.

R.H. Boyd is making videos to accompany our Sunday school and bible study curriculum every Sunday. So as you practice social distancing, you can still worship and study God's word. Follow along each Sunday on social media or at https://www.rhboyd.com/.

Integrity Dental Care is your experienced dentist in Nashville. Exceptional patient care, state-of-the-art equipment and a complete range of dental services-that's why our practice is recognized as one of the most professional and compassionate dental practices in Nashville. Integrity Dental reminds you to brush and floss daily.

 

There is no higher priority to our Advance Financial family than the health of our employees, our customers, and the communities we serve. We want you to feel confident when working with Advance Financial. Online Loans available 24/7.

Whether its screaming kids, a nagging spouse or another annoying attorney TV commercial, going on a ride can help clear your head.

Set down the screen and take the bike out! Remember why you decided to buy a bike in the first place. No matter where, what or the distance — gear up, get out and go ride

Renewal House recognizes that separating a mother, or mother-to-be from her children during addiction treatment is not effective.
So, we keep the mother and her children together throughout the recovery process.

Come see us at our West Trinity Lane location! Our drive-thru is open! Also Uber Eats delivers!

Knowledge is a powerful thing and at King and Associates Insurance, we love educating our clients about the complicated world of insurance. No two people or businesses are alike. We take the time to help each client find the right insurance plan that best meets their needs.​ Get your royal review today!

GracePointe Healthcare is a a Direct Primary Care (no insurance) in Franklin, TN offering affordable, exceptional, personalized, no-rush care for the entire family.
We even do house calls and now virtual visits! For just $49, you will get a virtual visit and maintain social distancing! Call 615-599-6868 for more information and to schedule your appointment or visit www.gracepointehealthcare.com!

Voted #1 Flooring Store in Wilson County Servicing commercial and residential flooring needs for the greater Nashville Tennessee area.

Premier Flooring Inc. has been providing and installing flooring for the middle Tennessee area for more than 15 years. We have served clients in Nashville, Mt. Juliet, Gallatin, Hermitage, Hendersonville, Murfreesboro, Franklin, Brentwood, Smyrna, Lebanon, Hartsville, Watertown, White House, and more! Our showroom has an extensive selection of flooring. Whether you're updating just one room or building a new home, we have you covered from selection to installation.

Sudden Service is known for appreciating their customers, and during the Coronavirus they want you to know they are doing everything to keep you safe. With a regimented cleaning schedule every 30 minutes (gas pumps, nozzles, and high volume touch areas). They've added hand sanitizers to all locations and of course maintain clean restrooms for hand washing. Sudden Service remains open to help you with any essentials you need, from a tank of gas to a cup of coffee for those headed to work.

Stop in and grab the newest Gatorade product Bolt 24. Bolt 24 is created for athletes and provides advanced hydration on and off the field. Pick up your favorite 28oz Gatorade products, mix and match 2 for $3 and Pepsi brand 15 packs 2 for $8. Sudden Service is keeping your experience safe, fast and friendly. So shop local at Sudden Service Convenience Stores.

These days remind us that home can be a place of stability and a stable investment. With video conferencing and virtual tours, Renters Warehouse can rent your property now while putting safety first.

Renters Warehouse- you'll always have a home with us.

Affordable Building Concepts is a thriving family owned and run business in Lebanon, TN. Owners Mike and Judy Mathis have always tried to live by the philosophy passed down from Mike's dad to "never leave a customer unhappy" and always do business with this in mind. Affordable building Concepts will do whatever is necessary to make their customers happy and 100% satisfied, even if it means losing money on a job. That is because they believe in old fashioned hard work and having integrity in everything that they do. When you work with ABC you will receive expert opinions and help from them directly as they keep a close eye on each of their projects. If you are in the market for a garage, pole barn, storage shed, deck, fence or even a carport, you owe it yourself to get free estimate from Affordable Building Concepts. Call Mike at 615-587-5587 or visit www.affordable-buildings.com today!

Whether you're looking for personalized advice about retirement planning, estate planning, taxes, paying for college, buying a home, or any decision in your life related to a dollar sign, Edelman Financial Engines can help.

Call (888) PLAN-RIC

Stover's Liquidation is a large retailer of closeout and liquidation products, but the company is still very much in the mindset of a small local home improvement business. Even though we're growing, we are still very much like a small family business.

In addition to our retail locations, Stover's Liquidation sells wholesale products in pallet or truckload quantities for resale or large contractors. Visit their locations in Antioch, Cookeville and Knoxville or shop anytime online here!